Pixel Motorsport
Welcome to Pixel Motorsport a Forza Motorsport Club.
Top posting users this month
July 2018
| Mon | Tue | Wed | Thu | Fri | Sat | Sun |
| --- | --- | --- | --- | --- | --- | --- |
| | | | | | | 1 |
| 2 | 3 | 4 | 5 | 6 | 7 | 8 |
| 9 | 10 | 11 | 12 | 13 | 14 | 15 |
| 16 | 17 | 18 | 19 | 20 | 21 | 22 |
| 23 | 24 | 25 | 26 | 27 | 28 | 29 |
| 30 | 31 | | | | | |
Calendar

Who is online?
In total there are
2
users online :: 0 Registered, 0 Hidden and 2 Guests
None
Most users ever online was
38
on Thu Dec 19 2013, 02:45

Of all the things on Forza I never thought I, of all people would feel the need to start a paint/vinyl/design thread, or should that be attempts. However, looking through my garage it turns out I do.
I will say though, the designs aren't very... professional. Most of them are whimsical efforts, or comical attempts.

It began, with very simple stuff...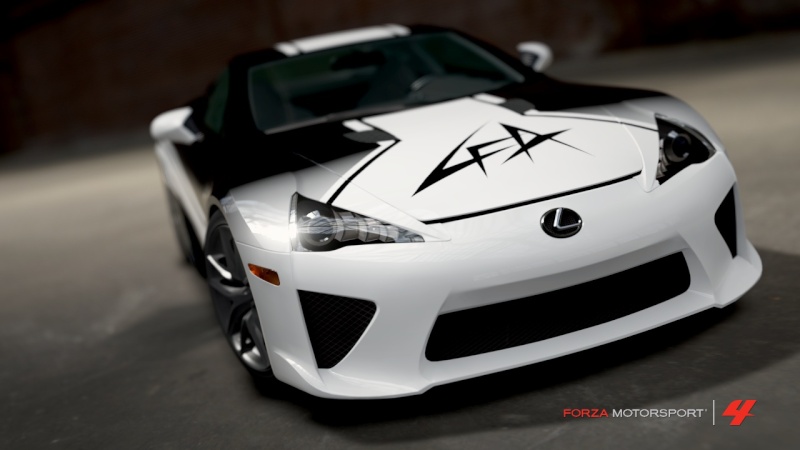 This LFA was one of the first I did that I was happy with. Simple shapes and lines joined together to make what I thought wasn't a bad effort. Kind of like a humbug.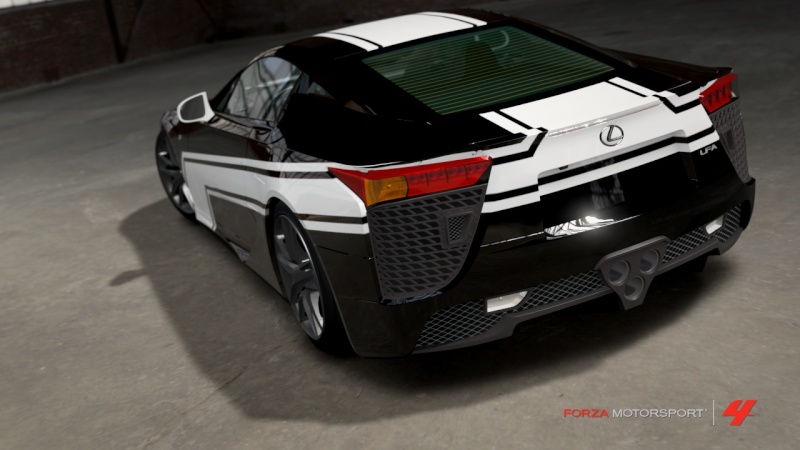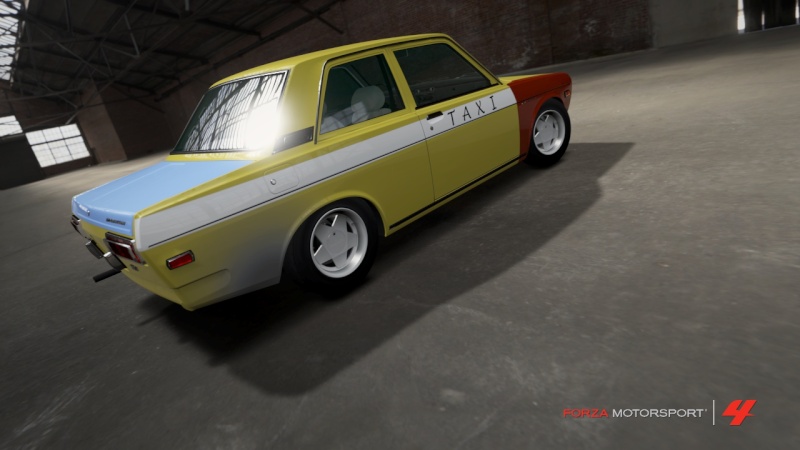 Another simple, yet slightly comical effort. Tokyo Taxi... complete with replacement panels and primer. Oh yeeeaaahh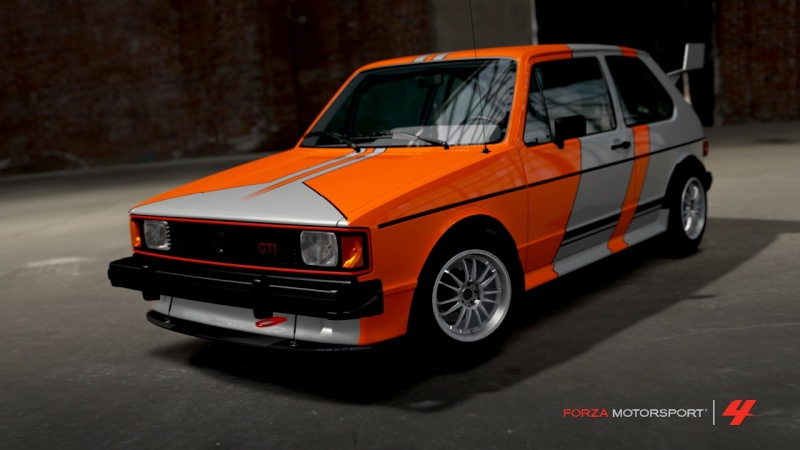 More lines and shapes, this time inspired by the Berg Cup cars you see razzing up mountains in Switzerland, Austria and the like. (I might add, the American Golf Mk1 is soooooo ugly, compared to the British one)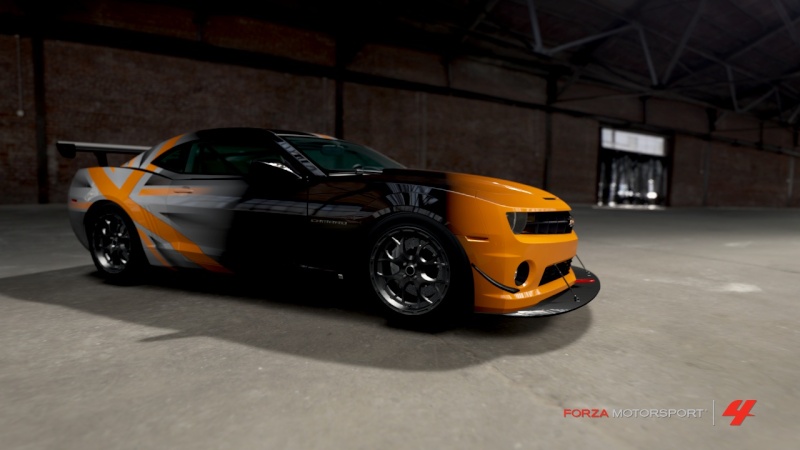 Before I joined PNUK, I raced quite regularly with a bunch of Swedish and Finnish guys, and very nearly joined their club, except for the time difference and language barrier. They had a Camaro Cup, and this is the design I was going to run with. British flagged Yank Tank.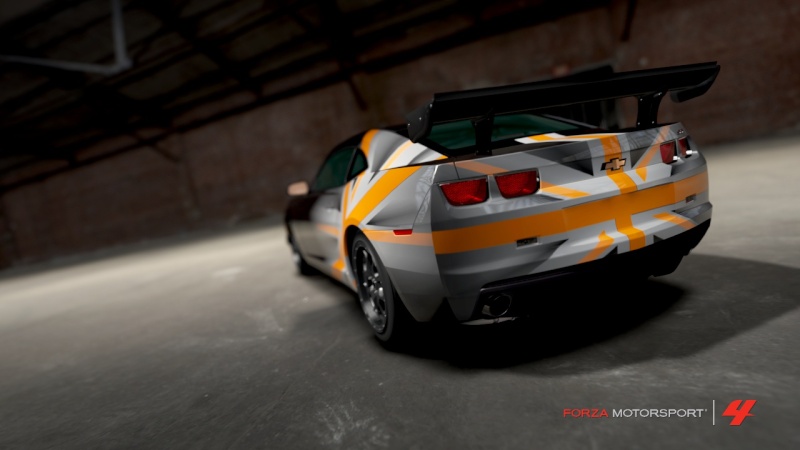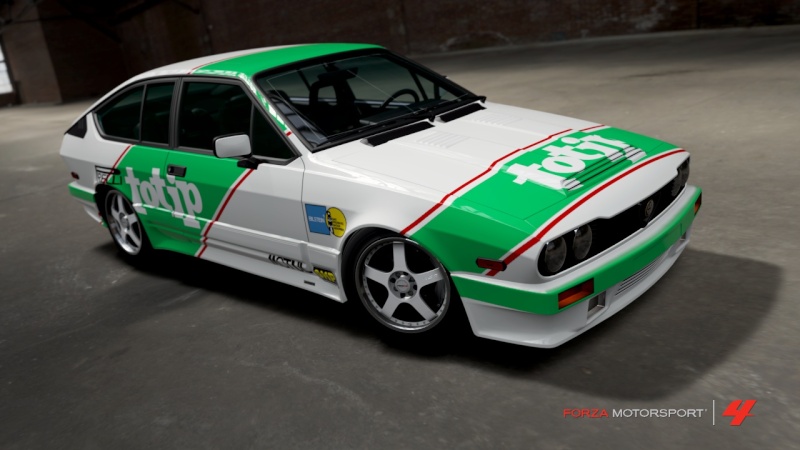 One of the first designs/replicas I did that I was happy with was this, Totip Alfa. I didn't do all the smaller logos, but I was happy with the main logos.
Initially I was so against the Porsche pack to the point that I made this. Though I have to admit, I did buy the Porsche logo from the storefront... so that bit I can't own up to.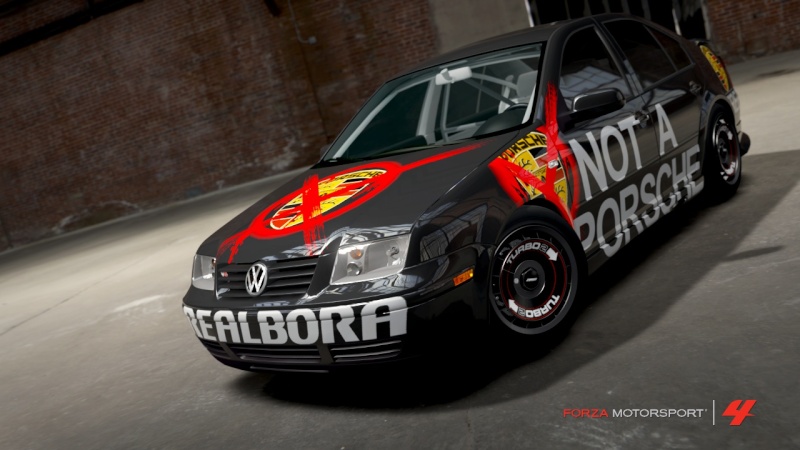 More to follow...

Greenfly750




Posts

: 1287


Join date

: 2013-01-10



They r cool Daniel

The Camaro and taxi r my faves, they r brill


LucyLou217

Admin




Posts

: 2340


Join date

: 2012-04-24


Age

: 97


Location

: Narnia



Thanks Lucy. They're not in the league of your work, but I'm getting there... slowly.
Here's some more to celebrate.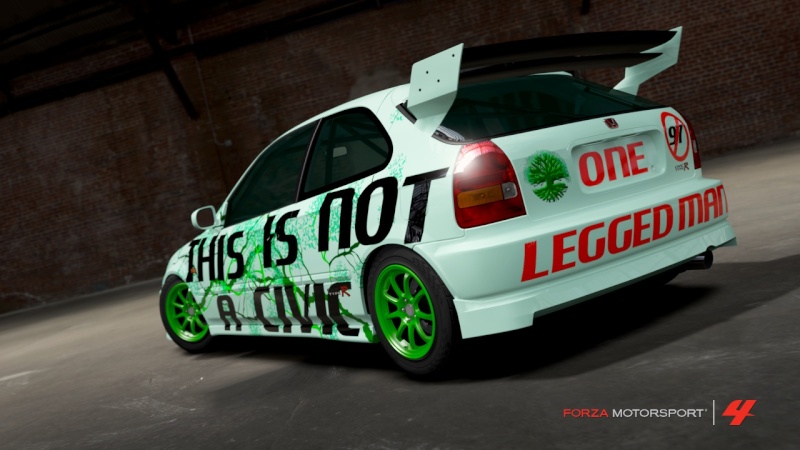 It's '97 Civic... or is it. So I was doing a lot of C and B class lobbies, and it was always the '97 Civic that was beating me. There were so many Civic's in fact, that some guy commented on it. I can't remember his exact words, but it had me in stitches at the time. So off I went and I created this. The "This is not a Civic" Civic... complete with Japanese bonsai tree on the bonnet.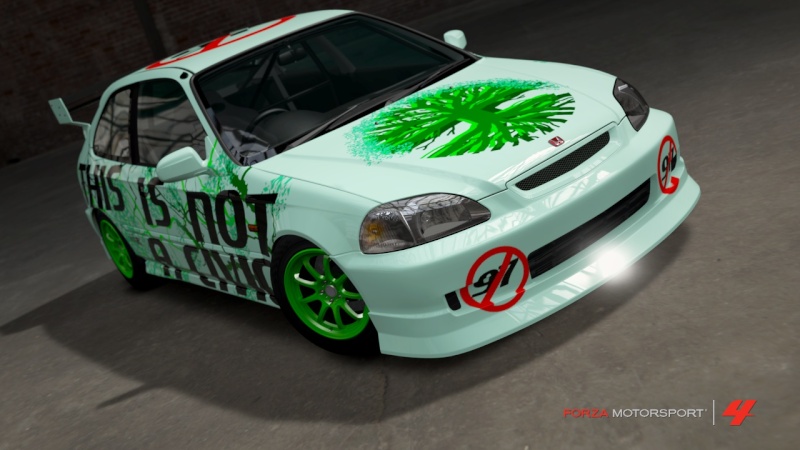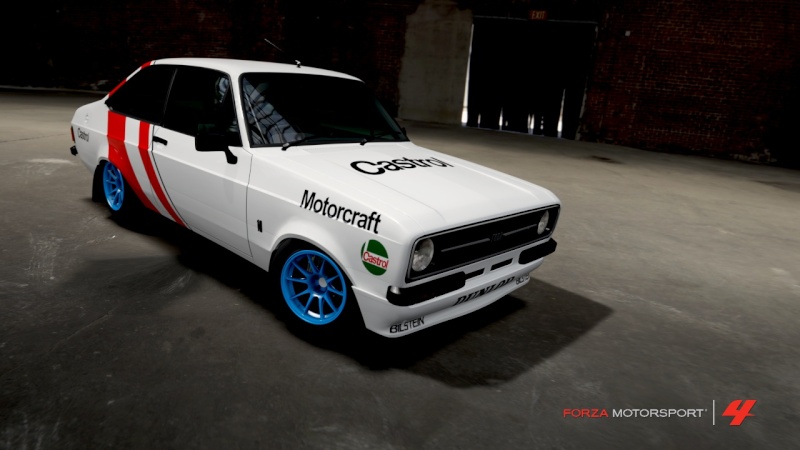 Re-entering the rally rep, but notice it's still quite simple. It's a replica of Bjorn Wladegard's 2nd place finishing car from the '74 Monte Carlo. I could baffle you with balderdash and history of why this particular mk2 was special compared to the others, but I'll spare you all. It is meant to have a number "2" on the side, but I kind of like my rally cars without numbers.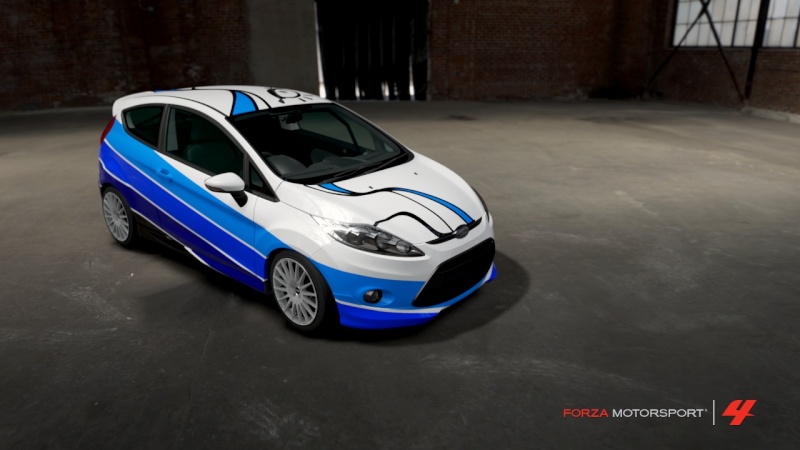 Another rally inspired theme, this time from a modern era modelled on a Fiesta. Notice, I'm now adding curves. oooo, daring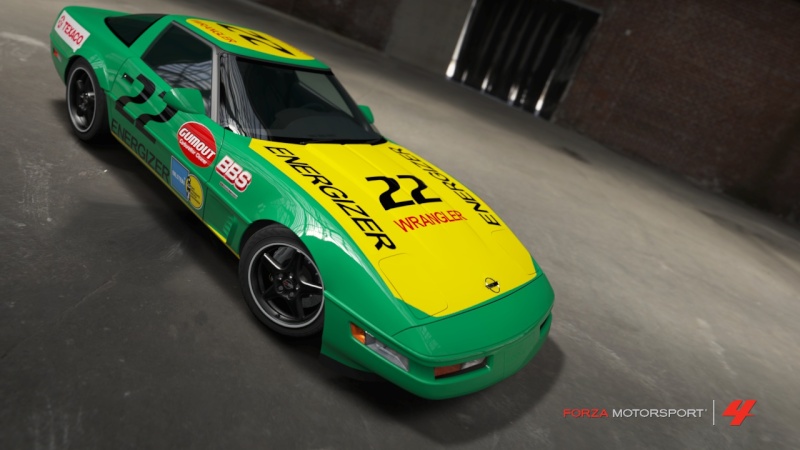 I've had a little model Corvette sat on my shelf since I was a kid. So I did a Forza version.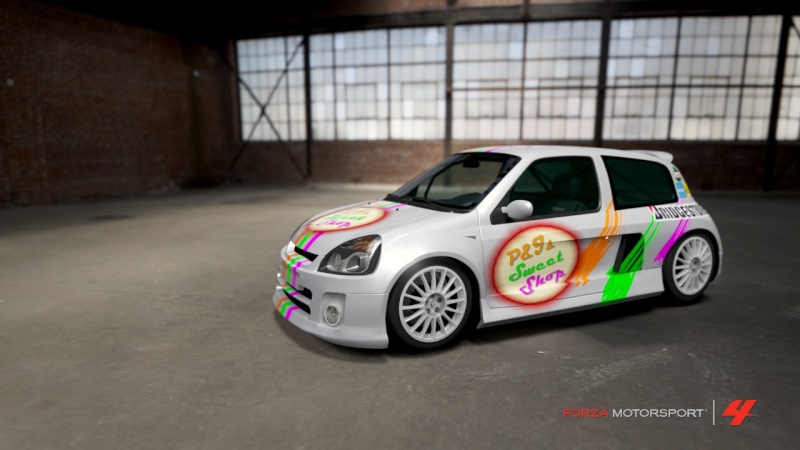 I joined PNUK a bit late to partake in the V6 Clio Cup, but that didn't stop me doing a paint job. Using my niece and nephews initials, I created a sweet shop... using candy colours of course.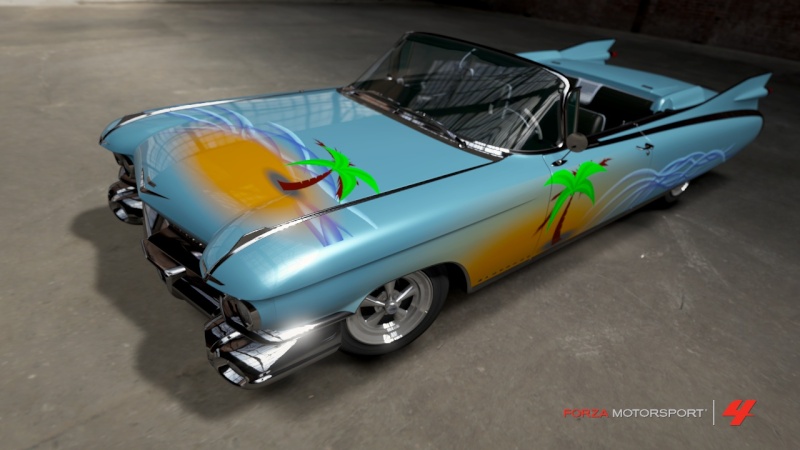 Possibly one of my most adventurous ones to date, although it was a lot simpler that I thought it would be. '59 Cadi coastal cruiser with beach scene airbrush.

Greenfly750




Posts

: 1287


Join date

: 2013-01-10



Some nice ones there dan although maybe not quite as good as my king of the doggers paint

ochilbaz

Admin




Posts

: 3630


Join date

: 2012-04-24


Age

: 21


Location

: alva, bonnie scotland



love the Cadi


LucyLou217

Admin




Posts

: 2340


Join date

: 2012-04-24


Age

: 97


Location

: Narnia



Here's another batch of three.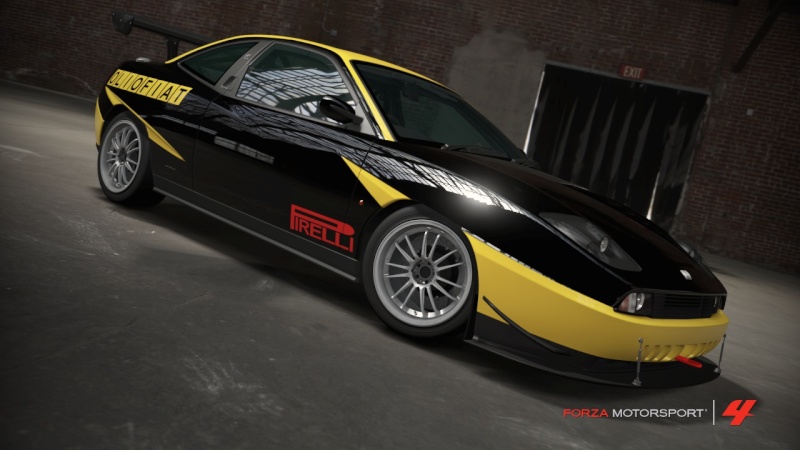 Another fairly old one, and as is nearly always the case, it's kind of unfinished. I get the general base down, but rather than carrying on with the details I get bored and just want to drive it. Inspired by the 131 Abarth of the 70's.
As my Gamertag in Greenfly, I thought it apt to actually have a greenfly themed car... so here it is. Complete with beady eyes and wings. It's a little F class flyer.
Possibly my most ambitious replica to date. The Clarion 306 Maxi as driven by the likes of Panizzi and Delacour is one of my earliest and fondest memories of watching rallying as a child (when it was on the BBC!!! (other than the video my dad would show me when David Llewellyn rolled a 6R4 about 4 times and still continued)). The way they'd always be pinging off the limiters and tugging the handbrake. It's the stuff and 6 or 7 year old dreams of. So I did a replica on the 207. Again, it doesn't have all of the details, and once again minus the number boards, but I'm proud of this design. Took me yonkers.

Greenfly750




Posts

: 1287


Join date

: 2013-01-10




---
Permissions in this forum:
You
cannot
reply to topics in this forum